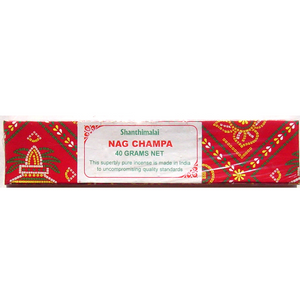 Shanthimalai Nag Champa Red Box - 6 Dozen, 40 Gram Boxes
4492
Our best selling Nag Champa.  A gorgeous aromatic blend of flowers, oils, resins and spices.   This superbly pure incense is made in India to uncompromising quality standards.  Durbar stick. 
Sales directly benefit women & children in rural villages in India trained in the art of creating incense sticks through Shanthimalai Research and Developement Trust.   A public charitable organization, the Trust serves the inhabitants of a culturally rich but impoverished region of Tamil Nadu, south India.  Projects fostered by the Turst offer training and empolyment for widows, abandoned mothers and handicapped or umarried women who previously could hope to find work only as heavy field or construction laborers.  
A substantial portion of revenue of Shanthimalai Incense is donated to the Trust, which builds community centers offering health care, vocational training and extensive women's programs.  Other activities include a comprehensive educational program for local children, a model farm, a medicinal plants conservation park, and community development projects in over 40 villages.  
Exclusive to The Incense Sampler Works.  
SOLD BY:  The 6 Dozen = 72 boxes, 40 gram boxes ($18.81 a dozen)
4492